The Book ... The Blurb ... The Cover Art ... The Author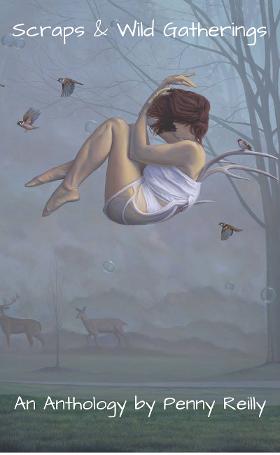 Scraps & Wild Gatherings - A Short Story Anthology
Lady Nature, Greenwoman, Gaia, Danu, touches us... she waits for that odd moment when our thoughts are elsewhere, tucked in at the corners of a neat little life. Suddenly, she not only untucks those corners, but pulls on loose threads, unravelling all we thought was 'normal' in our world.

Greenman, Jack in the Green, Cernunnos, Herne, John Barleycorn …all reference the Magickal being who is the epitome of the God of Nature. His presence is revered in all things, all sentient beings and in the changing nature of the very seasons themselves, as the native Spirit of the ancient Land of Albion.

Who has not lain on their backs, looking up through a canopy of leaves, to see faces show briefly before vanishing? A benign, foliate mask of leaves, his signature appearance. I have dreamed of him since childhood; he has been there for me in the tales of my lands and to me, his presence represents nature itself and its changing cycles. Lady Nature and the Greenman come to play in my dreams and psyche, along with creatures who shapeshift and change.
I give you, Scraps and Wild Gatherings.
Unfurled
Nature heals, stirs depths of emotion and, stripping bear all pretension, heals again without agenda. Respect, rather than fear is the key to connecting, empathically, with her ever-changing face.
Sentient life in all forms is Penny Reilly's passion. Celebrating in words and photos what inspires her, Unfurled is a magickal and oft whimsical, poetic journey, into reconnecting with nature in the raw.
Unfurled, cover and interior photography by Penny Reilly
Silver's Threads Books 1 - 5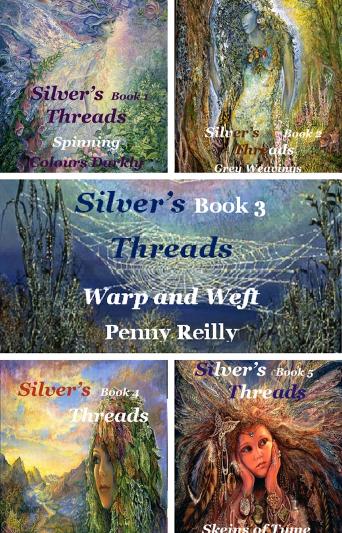 Silver's Threads
This series of five books, weave the lives of predominantly four women, who are charged with a task to unravel and re-weave the Skeins of Tyme.
An urban fantasy set in Australia that takes the reader across this world countries and into other realms.
What if someone could fall off the edge of their own personal tapestry of life …disappear into uncharted places …hiding from sadness perhaps …and what if, mirroring that sorrow, a small being of light could become corrupted by the pollution of earth; falling through the time space continuum lost and confused. If other realms are affected how would our world respond …would we fall into chaos or would we finally look for solutions?
A tale of the Wytchways …the Craft of the Wise …how ancient Rites can be a tool to reweave this world to harmonise with other realms and into oneness with all life.
The journey unfolds with...
...the discovery of strange and ancient bones, hidden in the mud for centuries, found in a landscape of secrets on the Plains of Holderness in Yorkshire.
...a grove of Wytches gather on a sacred mount in Australia to celebrate the Mabon Rite but something is very amiss ...strange forces are at work that go beyond mortal understanding.
...with four young women and the fifth; their teacher, a seer a Wytch and a Wise Woman, who has trained the four in the Wytchways. She has vanished inexplicably and with all their combined skills they need help from the other realms to discover where she is. All they have are a set of cryptic instructions to be deciphered.
...one of the four must change her understanding about how the world works ...one must learn the tools of her trade anew ...one must learn to trust that Magick is real and one must find the answers to their teachers disappearance by travelling to other realms where the Old Ones walk.
...the Birthing Tree is the place of soul renewal ...all must return here but with the fall of an ancient immortal the web of life has been torn; the Tree is wounded casting a blight that echoes throughout all the realms.
…within the twists and turns on the warp and weft of time the young women meet other aspects of themselves, where clues are hidden and find within those clues the secrets of other worldly lives, connections to each other and even ancestry. This weaves and re-weaves their stories, together and apart, throughout the Skeins of Tyme, to manifest a new way of living …for one of the things humans fear the most is that …Magick might indeed be real; hidden in each of us.
The extraordinary cover art for Silver's Threads is by Josephine Wall ...please visit her wonderful web page www.josephinewall.uk to be thrilled by her amazing talent.
About the Author
Renowned clairvoyant and teacher of the Western Mysteries at Daylesford School of Arcane Knowledge, Penny Reilly is Bard and Ovate in the Tradition of the Druid. Penny has a passion for the Old Ways of the British Isles; she returned last year, 2016 to carry out research for her nonfiction books, and her recently released, Scraps & Wild Gatherings, a short story volume. The first book in a second series, Cloak of Magick, is due out toward the end of 2017. Her poetry volume, Unfurled, was published April 2016.
She feels that the gentle path of the Druid-Pagan is the path to take for a sustainable future, connecting us to the land, no matter where we live on the planet. She describes herself as a 'nature writer' and her first non-fiction book Beyond the Gate will also be published mid 2016.

Her own visionary experiences are very much a part of her storyline, poetry and lyrics …Scraps and Wild Gatherings will be her seventh published book. She has previously written articles for alternative magazines, blogs regularly about her ideas and way of life, writes for 'starts at sixty' lifestyle blog and has over 6,000 followers on her poetry page, 'earthly rites', her photographic and art gallery page, @beyondthegategallery and her author page @pennyreillyauthorpage on facebook.
Penny moved to Sydney, Australia in 1980 and to the central highlands of Victoria with her husband David, 21 years ago. They share space with an 'all sorts' terrier, an old tabby cat, a small flock of hens and a fat wombat fondly known as 'chocolat', who has adopted them. Keen gardeners, they are becoming self-sufficient on their beautiful rolling acres on the Great Divide; their blended mob of children are long 'grown and flown' the coop.